We offer the following finishing services (all prices + GST):
Banner Joins
We can join two or more panels together. Depending on the media, we will either weld or sew it together (from $3.80m)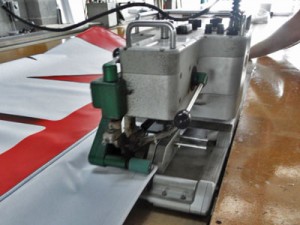 Kedar
Welded onto the edges of the media. Used with sail-track (from $5.90m) Kedar is white 7.5mm single flap.
PVC Cord
PVC cord is welded into edge of media . Used with sail-track (from $4.80m). PVC cord is 7mm.
Aluminium Sail Track
Cut to required length. Available in mill finish (from $4.10m).
Blank Banners
Please see our blank and backlit vinyl page for full prices and colour choices.
Additional Eyelets
Standard Sp4 Eyelets are inserted every 1000mm
Additional eyelets are $0.55c each.
Additional Rope
Approximately 2000mm rope ends are standard. Rope is white 6mm or 8mm.
Additional Rope (from $0.65 per metre)